Sept 18th, 2016 the OTHG will have our 2nd annual 9-11 Memorial Race at LA County Raceway in Palmdale California! Racing will take place on the main track. Come out and show your support for the men and women who protect, serve and provide the freedom that we as Americans enjoy on a daily basis! The freedom which allows us to race MX bikes and have a great time doing so. We look forward to seeing each and everyone of you on Sept 18th, 2016.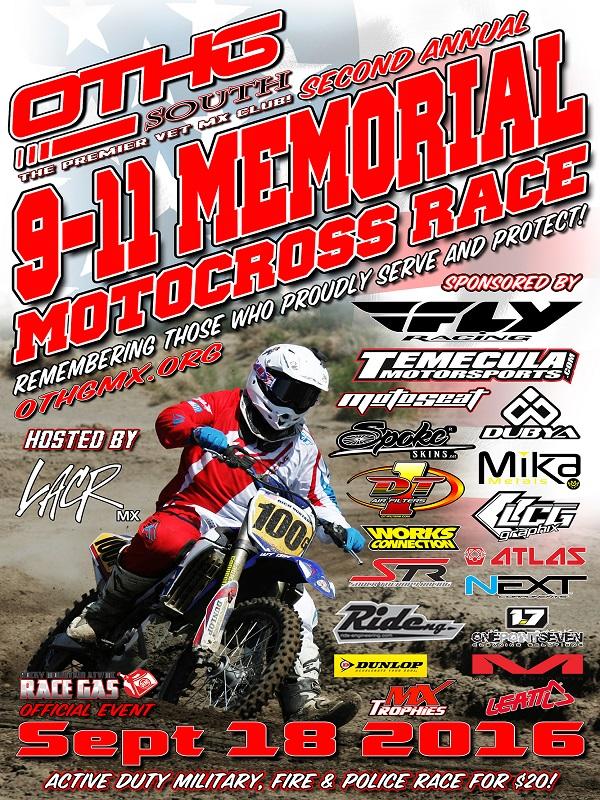 Saturday – Sep 17, 2016
Practice $30/rider, $10 50cc Pee Wee – 8am-1pm
Overnight Camping $15 – Gates open until 6pm
Sunday – Sep 18, 2016
We will be racing on Track 1, with public practice on Track 2.
Gates open 6am – $10 racers/spectators, $5 kids (6-12)
Signups start 7am
Chapel service 7:30am-7:45am ~ Hosted by Moto Ministries
Practice 8:00am – Per Race Director's schedule
Racing ASAP!
Location: LA County Raceway
Website: http://www.lacrmotox.com/
Facebook: https://www.facebook.com/lacr.mx/